Posted by: sara | March 12th, 2018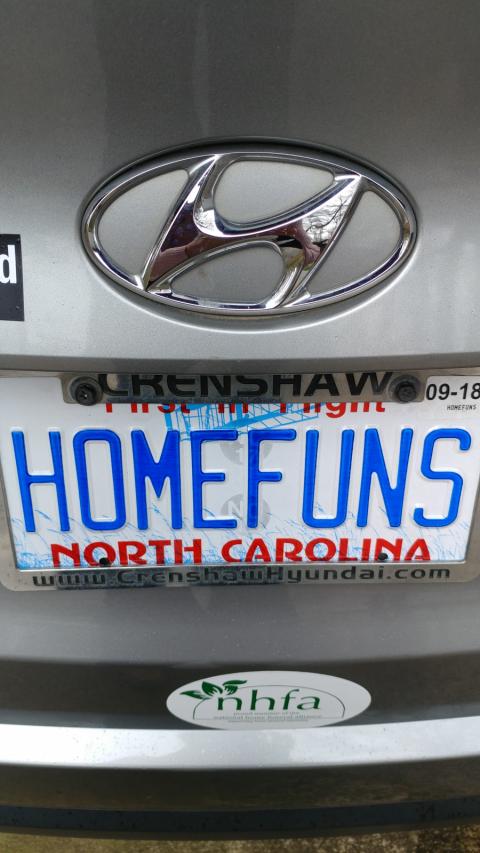 So what happens when you randomly ask a bunch of friends and family to help you come up with a novel license tag slogan?  Honestly, I didn't know they had it in them to get so creative (especially ANNIE!!!).  And, um, well....in too many cases their suggestions were totally over the top!!!?!
Here is a sampling of their ideas.  You realize, of course, that license tags only have so much room.  So the trick is to capture the pith in eight spaces.  You can readily see why so many were immediately disqualified!?!
SHROUD ME NOW
DEATH BECOMES ME
I'D RATHER BE DEAD
HAVE A SHROUD DAY
SHROUDS FOR THE MEMORIES
MEAN GREEN DEATH MACHINE
DEM BONES BE GONE BY & BY
SIX FEET UNDER IS NO FUNNER
YOU'LL NEVER GET AHEAD IF YOU'RE DEAD
I PUT THE FUN IN FUNERALS
NANNY NANNY BOO BOO I'M DEAD BEFORE YOU
DEAD ZONE
GOING GOING GONE
DESTINATION UNKNOWN
FROM HERE TO ETERNITY
LOVES TO PUSH DAISIES
I ended up choosing something really simple which hopefully conveys the very simple truth of what it is I try to educate the public about.  Home funerals.  That's HOMEFUNS in eight spaces!